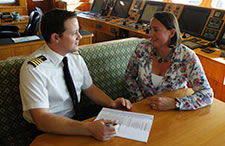 Crew - Your Biggest Asset, and Challenge!
The Islander – December 2014
< Back Dealing with issues - short term pain, long term gain
When asked "what are the biggest problems you face on board as a Captain or Head of Department" the answers will inevitably come back in three broad themes:- time, resources and people.
How come people don't do what they say they are going to do," "Why can't the crew just get on with each other", "Why do the newbie crew think that they are entitled to everything?"
Managing people, or the 'human element' is undoubtedly perceived by many as one of the increasingly challenging aspects of their xxx in the yachting industry – 'the day job is easy, it's managing people that is the hard part.'
One could think that this would also be the case in the 'real world', but it's not – we don't have to live AND work with the same people in a tight knit and often pressurised environment; with people that have differing backgrounds, cultures, personalities who have perhaps different ethics, values and morals.
Within this 'yachting' melting pot, it's not surprising that there are clashes or tensions on board especially when the added ingredients of stress and fatigue are stirred in. However it's not the issue of conflict that is the problem, it's how it's dealt with. You can continue to sweep an irritant or problem under the carpet and ignore it, thereby avoiding a conflict situation – but at some point in time the lump in the carpet will grow and you will end up tripping over it.
It has already been noted that one area in which training would make the most significant impact across the industry would be one that imparted the skills of management, communications and conflict resolution - we are promoted because we are good at the day job and undertake training to advance and progress in the 'task' side of what we need to do. But what we also need to acquire is the skills and confidence in managing people.
Impact Crew ran a workshop in association with ACREW at STP last month on 'managing interdepartmental tensions'. It was completely oversubscribed which substantiates that crew understand the need to develop their suitcase of transferrable 'people skills' and realise that these skills are necessary in their advancement up the career ladder.
The feedback from the workshop was encouraging; one comment particularly hit home:-
"I found in the years spent in this industry not being able to manage and deal with conflict has compromised my jobs, relationships, and I have also witnessed others having the same issues.
I really felt learning to deal the problems will help to decrease tension and create a much better work environment."
Over the forthcoming issues with The Islander, we aim to provide some top tips and techniques to aid you with your continuous professional development in 'leadership and management' – covering topics such as conflict resolution, motivating teams, coping with stress, different leadership styles and when to use them.
In the meantime, Impact Crew are running an initiative to discover the primary factors behind crew turnover and the real reasons why crew would leave a position of employment on board.
Have you ever felt unjustly or unfairly treated? Do you feel that you have had to leave a boat because there were no opportunities for promotion, development or training? Or, have you left just because you were burnt out?
Impact Crew has created a short survey of ten questions aimed at crew working in the super yacht arena - providing you the opportunity to voice your opinion and be part of an international piece of research.
Crew turnover is a topic of hot debate as its effects are felt industry wide – from Owners, to Captains, recruitment agents, yacht managers and crew themselves – with the obvious impacts upon costs, safety related incidents, experience and on board knowledge but also the less apparent yet often more far reaching 'human' aspects such as Owner 'experience' and crew morale.
Karen Passman, founder of Impact Crew suggests "with a greater depth of understanding of the push and pull factors we will be able to provide some compelling data that could help drive changes in the yachting industry to reduce turnover on board."